Why businesses are looking to Bhutan for their next luxury incentive
Offering intrigue, adventure and rugged natural beauty, mystical Bhutan is a hidden paradise full of reward for a business' top performers. Check out these 5 reasons why businesses are looking to Bhutan for their next luxury incentive.
1. It's one of Asia's best-kept secrets
View of the Himalayas, Bhutan.
Nestled between tourism giants China and India, the tiny Kingdom of Bhutan existed in a state of isolation up until the early 1970's. Flying neatly under the world's radar, the country deliberately shunned all outside influence (including tourism and television) to protect its cultural heritage. Today, its many small towns remain untouched by commercial onslaught, treating visitors to the feel of a country that has been virtually stuck in time.
Creating additional appeal is the Bhutanese government's "low volume, high value" approach to tourism. For visitors, this equates to once-in-a-lifetime magical moments in an exclusive destination experienced only by a handful of people in the world.
2. Bhutan delivers cultural experiences like no other
View of Taktsang Monastery. Source.
In Bhutan, Buddhism is not just a religion, but a philosophical way of life. One of the country's most incredible sights is the Buddhist monastery Taktsang Goemba (or "Tiger's Nest Monastery"). Miraculously perched on the side of a sheer, 3120-metre high cliff, Taktsang Goemba was built around the area where Guru Rinpoche (the monk reputed for bringing Buddhism to Bhutan) is believed to have flown on the back of a tigress to meditate. To this day, the monastery remains one of the most sacred sites for Buddhist pilgrims and for the Bhutanese people.
Given Bhutan's centuries-long isolation, the country's culture (as well as its mysticism) are uniquely preserved. Many Bhutanese still wear traditional garments, treating visitors to fashions that have evolved over thousands of years. Bhutanese people also gather yearly for religious festivals known as tsechu, which honour Guru Rinpoche.
3. Bhutan's accommodation is the ultimate in serenity
View of the valley. Source.
Given its rugged landscape, it usually surprises visitors to learn that Bhutan has no shortage of luxury accommodation on offer, with venues ranging from the high-end to the ultra-luxe. In line with the government's stance on low-impact, high-value tourism, Bhutan's luxury resorts and lodges are usually nestled in the country's most scenic locations, resulting in the ultimate in comfort and serenity for its guests.
Of course, humbler experiences are also available for businesses that like a splash of local living in their travel incentives. Overnight stays or homecooked dinners hosted in a friendly local's home offers guests a true taste of beautiful Bhutan.
4. Bhutan - the last Shangri-La?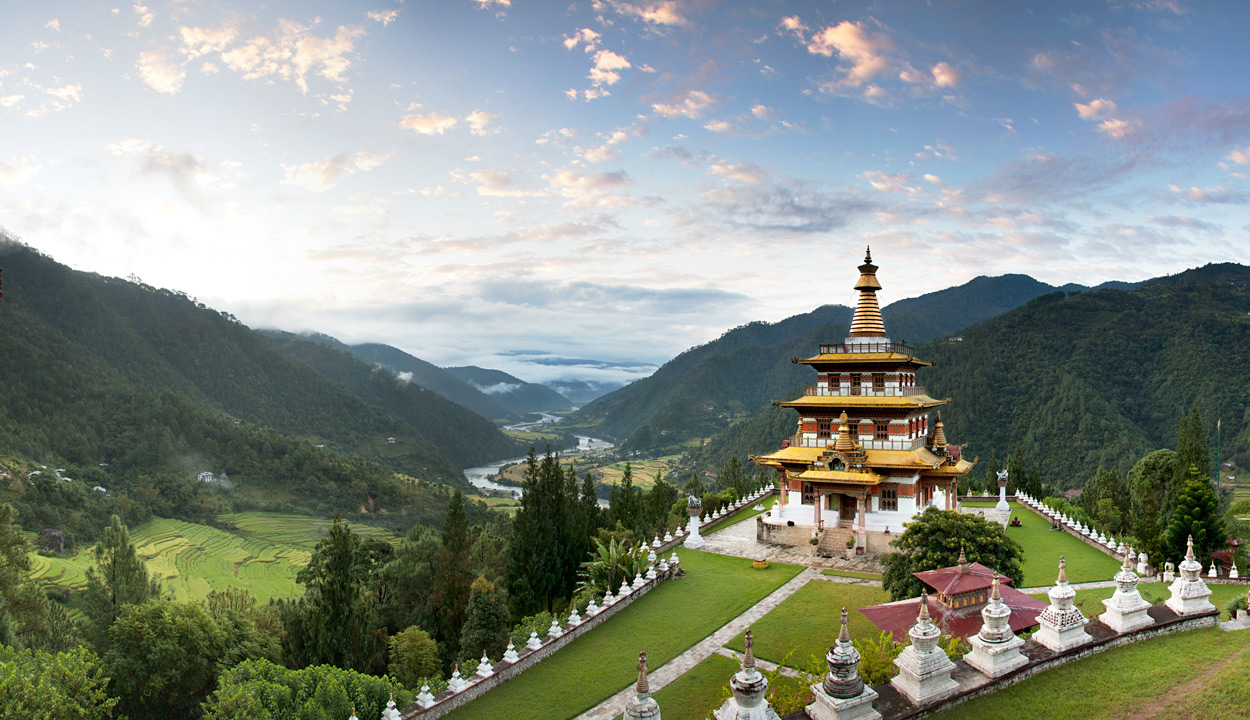 View of Bhutan. Source.
One of the many things that makes Bhutan unique is its rejection of standard economic measures and its focus on Gross National Happiness. The country places immense value on environmental conservation, cultural preservation, and sustainable socio-economic development. By law, at least 60% of the country must remain forested for future generations – in fact, Bhutan is one of the few countries that currently actually more carbon than it uses!
For visitors, this translates into strolls across hillsides ablaze in bloom, treks through untouched forestry – and, of course, interactions with locals who are among some of the happiest people on the planet.
5. Travel extensions into India and the Himalayas
View of the alps from Nepal.
Bhutan is a country that shares land borders with India and Tibet, and is an ideal starting point for visitors looking to extend their cultural experiences. Flight times from Bhutan to New Delhi are approximately 2 hours (only 1 hour if flying to Kathmandu), with flights also going to Singapore and Bangkok.
Need ideas for your business' next luxury incentive? Let us help.
Contact Jo-Anne Morgan or Megan Isles today for a confidential chat about your business' needs.